Post by boscoe on Aug 21, 2006 16:30:04 GMT -5
Invicta never seems to fare well in my side by side comparisons with the higher price spreads. I'm not sure whether this is due to an inherent unfairness in any such comparison - since Invicta is, after all, a budget brand - or just that Eyal Laylo's products don't quite measure up. However, I suspect it's the latter – though I can't shake the feeling that I'm comparing apples to grapefruits.
Certainly, you wouldn't think of comparing an Alpha or Sandoz Dive Watch to an Omega, Rolex, Breitling, IWC, Chronoswiss or Tudor. Obviously, these companies don't play in the same league. But Invicta itself invites such comparisons with it's marketing claims – saying its products, particularly its dive watches, are every bit as good as Swiss Made products that cost two, three or four times more.
Anyone who has watched ShopNBC has heard Invicta boss Eyal Laylo or one of his sidekicks say his three, four, five hundred dollar products are equal to watches that sell for two thousand dollars or more. So, once again, I'm putting it to the test – though this can never quite be head to head kind of thing due to the respective ages of the watches.
THE PLAYERS
1991 Omega Seamaster Professional (SMP) Quartz with Date – Acrylic (?) or mineral crystal (no cyclops), dual deployent clasp with diver extension and safety lock, brushed stainless steel case and bracelet, screw down back, screw down crown, rotating bezel. 200 Meter Water Resistant. Cost (used) $349.00
Black dial. Size 39 mm with crown
2006 Invicta Swiss Quartz Pro Diver with Date – Mineral crystal (cyclops), dual deployent clasp with safety lock no diver extension, 23K Swiss Gold Plated stainless steel case and bracelet, screw down back, screw down crown, rotating bezel. 200 Meter Water Resistant. Cost (new) $89 to $129.
Black dial. Size 42 mm with crown
2006 Invicta 9937 Automatic Movement with Date – Sapphire crystal (cyclops), dual deployent clasp with safety lock, stainless steel case and bracelet, screw down back, screw down crown. rotating bezel, 200 Meter Water Resistant. Cost (new) $340.00.
Black dial. Size 42 mm with crown. This watch was included in the comparison based on its cost.
OVERALL IMPRESSIONS
When viewed from afar, both Invictas are dead ringers for either Rolex Submariners/Omega SMPs. Both are stylish and handsome – the 9937 due, in large part, to the Rolex-style Coin Edge Bezel, which is one of my favorites. Both Invictas look far more expensive than they actually are. Invicta has done a fantastic job capturing the feel of the iconic timepiece from the company that wears the Coronet.
Up close and side by side the Invicta 9937 comes across as superior to the its Swiss Quartz driven sibling. (But still the budget Pro Divers are a better buy). Despite this superiority, you don't get the impression the Invicta Quartz Diver is junk. It is solid and good-looking and only suffers in a side-by-side comparo to the upgraded 9937. Both are rather thick and chunky. Naturally, the Invicta Quartz is much thinner than its ETA automatic powered sibling.
The Omega is even thinner still. But, remember, it was built back when folks considered a thinner watch a sign of quality. Current fashion dictates that Fat Is Where It's At. But I'm an old guy, so Thin Will Always Be In – for me.
Again, by today's standards the Omega is a midsize/small watch. However, it is perfectly proportioned and does not look dinky on my wrist. This particular example was well used and certainly not pampered. But it has held up nicely – a testament to its solid construction.
This model Omega Seamaster Professional (SMP) is a transitional piece – fitting between the first SMP introduced in 1988 and the current model line up. My vintage Omega has a Saw-Tooth Coin Edge Bezel and stick hands which are unique to models from this production run..
As best as I can determine, this particular model was in production for about a year to 18 months. (Thanks to folks in the Omega Forum for pointing me in the right direction). Omega then changed to the current styles and movements, which feature a different bezel, dial design, hands and other stuff I'm not really qualified to talk about. The Quartz Invicta mimics the new style Omega Bezel.
MOVEMENTS
We all know quartz movements aren't created equal. I'd assume the Omega quartz is a little better quality than the Invicta, which I believe is made Ronda. However, I'm not declaring a winner here, other than to say both quartz jobs are more accurate than the 25J ETA 2824 in the 9937 Invicta. Again, the 9937 was included for a price point comparison, not for its movement. Most of us, including me, prefer automatic watches. Though I do appreciate the simplicity and accuracy of quartz – and the slimmer case.
BATTLE OF THE BANDS
As you'd expect, the Invicta Quartz Pro Diver finishes third in this comparison – by a hair. While having a decent engraved clasp and easy to use safety lock, the Invicta Quartz bracelet comes off as an economy model. Which it is.
But, believe me, the Invicta Quartz bracelet is far from awful. In fact, it is very, very nice – especially compared to some offerings on famous Japanese brands and that famous company who's name starts with an R.
The Omega bracelet takes second place due to excellent fit and finish. The Invicta 9937 Pro Diver wins, but not by much. The 9937 gets the nod due to a more solid feel and those infamously troublesome end link screws, which are a great upgrade – when they don't fall out.
Though I have ranked the 9937 bracelet as tops in this comparison, I actually find the Omega bracelet more comfortable than either Invicta. But that's a function of size – and weight - more than anything else. Both Invictas are thicker, wider and heavier. Since my taste runs to smaller, lighter watches, my preference for the Omega is to be expected. But that's based on wrist feel, not perceived quality.
The 9937 Invicta bracelet seems marginally better than the Omega (though I can't tell if that is due to wear/age). Invicta has learned the lessons of the past, which serves as a major advantage, giving the 9937 solid end links and heftier construction.
The Omega has an ancient design that joins a bracelet prong to the case. This makes the Omega prone to rattling a bit on your wrist. Both Invictas are rock solid in this respect – of course, they are relatively new watches.
Both Invictas are easier to size, too. While all three watches use push pins, the Omega pins stick a bit and have to be inserted through hollow tubes (which can get lost easily) that make alignment a little challenging. But that's a nit pick.
When it comes to the clasp, again, I declare a draw. All work as designed and are trouble free.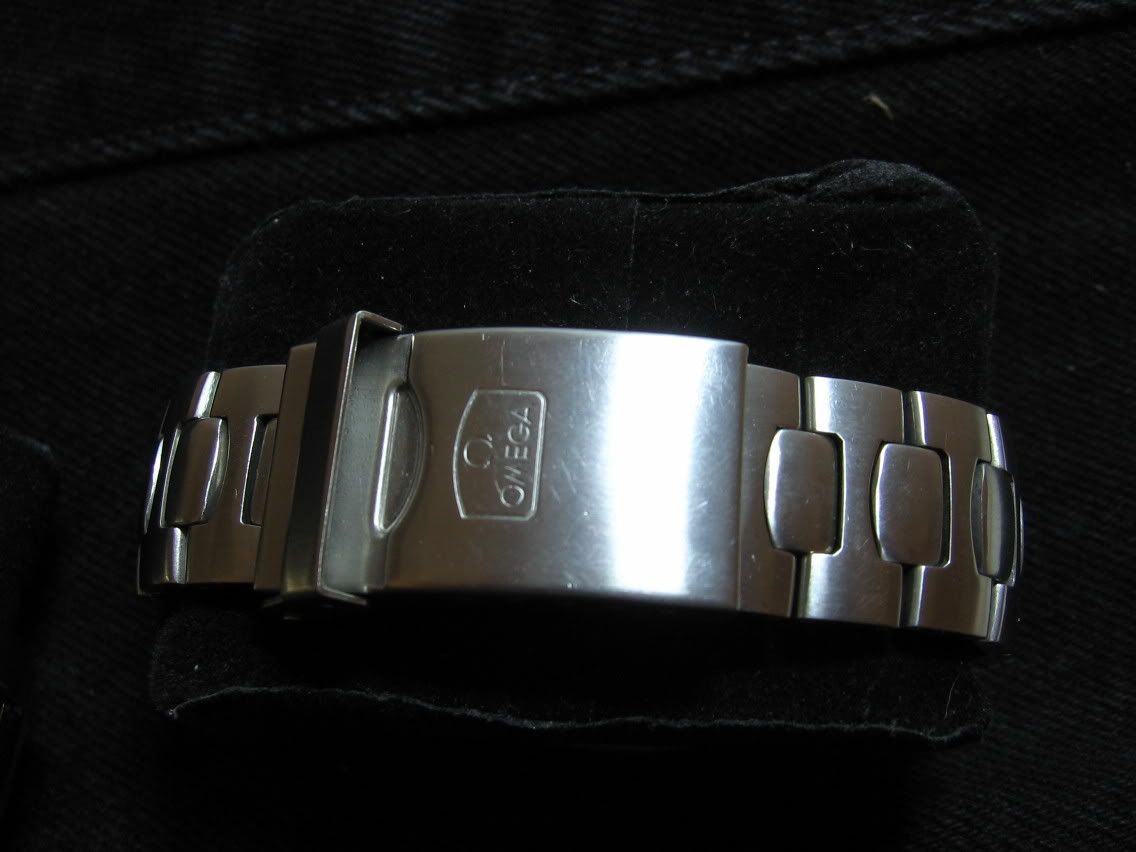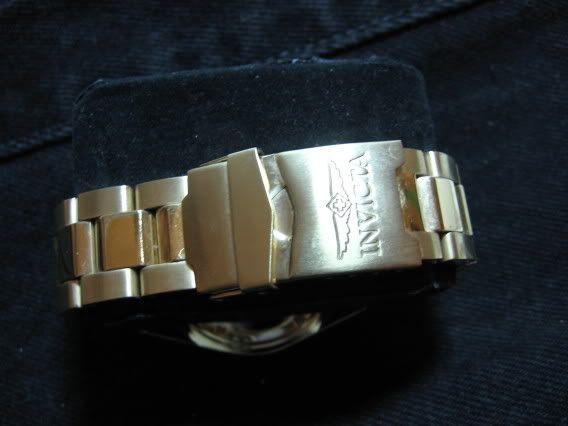 ON THE CASE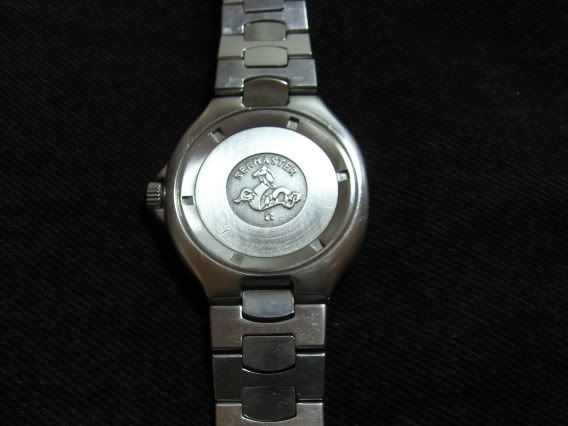 Here is where the Omega comes into its own and outstrips the competition by a colossal margin. The fit, finish and construction of the Omega case is something Invicta, at this point, can only dream of achieving. None of Invicta's productis – and I have owned a ton – even come close. Of course, the Omega is a Swiss made watch. These Invictas were assembled elsewhere. (My Swiss-made Invicta 2014 Pro Diver doesn't compare well, either.)
The Omega case looks and feels absolutely rock solid. Because it is. And it's an incredible piece of craftsmanship. Elegant and rugged. Not a rough edge/sharp edge anywhere. The case sides are gently rounded (not by wear) and the crown guard flows seamlessly – like liquid metal.
My photos and descriptions can't do this justice and don't impart the true feel of this watch. You need to hold it to feel how solid and well-made it actually is. The heft and design of the case inspire confidence. They tell you this watch can stand up to anything you dish out.
You certainly don't get that impression – at least in a three-way face-off– with either Invicta. Invicta's cases are crude by comparison – all angles and quick (cost-saving) machine work. The crown guards, while chunky, are not finely finished. Upon close inspection, the Invicta cases look like what they are – homes for low to mid-range watches. Sorry, EL, but I've dared to compare. And you lose. Big time.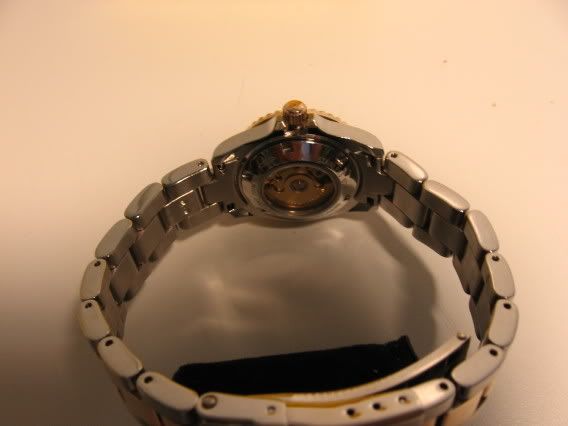 Invicta also loses big time when you compare case backs. The 9937 has a display back with a sapphire crystal, so we're not talking a straight-up comparison. But, again, it seems roughly finished/cheap when compared to the Omega, which has a finely machined concave back that fits almost seamlessly into the case. The Invicta Quartz case, again by comparison, looks like, well, a hundred dollar watch. Cheap and cheesy.
Even the machine edging on the Omega crown is finer work than on either Invicta. And speaking of the crown, the Omega has a thicker stem than either Invicta.
LUME
Omega is the hands down winner here. Neither Invicta holds a candle to the Omega, which out glows them by an incredible margin in the famous dark bathroom test – even after 15 years. The Omega lume lasts longer too. Invicta's Tritanite treatment is sorely lacking. But we all know that. So I'm not going to beat that dead horse.
Interestingly, the Omega's superior lume actually makes the watch easier to read in daylight, even though the dial is smaller than either Invicta. The lume on both Invictas has a decidedly greenish cast when compared to the Omega.
DIAL
I'll give both Invictas the glory in this category based on style points alone. Both seem cleaner and a bit less busy. (Besides, I think the Rolex that inspired these Invictas is one of the most handsome watches ever made.) The Omega dial seems cramped, though I think that is due to size.
My Omega was exposed to water, so there's a bit of pitting in the dial (though the movement is rust/corrosion free). I don't know how either Invicta will hold up long term, especially if flooded – as happened in the Omega's past.
All three watches are very readable. No complaints (other than nits) with any of 'em.
CONCLUSION
From my perspective, the Omega is a better watch than either Invicta, despite my carping about the bracelet, which is the only area where EL's brand outshines the Swiss legend.
However, better doesn't always mean best buy. But after a long, hard think, I've already voted with my wallet.
Many of you are probably aware that I sold off my Invicta 9937 CE after it came up short in a side by side comparison with my look-alike Rolex/Tudor Submariner. (That comparison is in the Review Forum now). My two-tone Invicta 9938 CE (ETA automatic) suffered a similar fate within the last week.
While I didn't lose as much money as I expected on the sale of the automatic Invicta Divers, it was a significant hit percentage-wise. I don't regret the watches' departure or the economic loss. I enjoyed 'em both and consider the loss part of my tuition at the Invicta School of Horology since ownership expended my knowledge of the brand.
I view this particular Omega in that same light. It is a tool for learning. However, unlike the ETA-powered Invictas, I doubt I'll lose money on the Omega should I ever decide to sell.
The Omega has already hit near the bottom of its depreciation curve – while used Invictas will continue to plunge. So three hundred fifty bucks to three hundred fifty bucks, the Omega puts you ahead. Assuming you can stomach a quartz watch with a fine heritage.
Unfortunately, the Invicta Quartz Pro Diver has no such heritage. And probably never will. So after 15 years of use and abuse (assuming it lasts that long), it will be consigned to the dumpster.
And that's not just my conclusion.
Eyal Laylo said as much himself on a recent ShopNBC show. That cheap Invictas aren't worth fixing. Just toss 'em and buy another. This is one time I'll take him at his word – and declare the all Swiss made Omega Quartz Seamaster Professional Diver the Official Best Buy in this comparison.