Post by Houston on Jul 13, 2007 11:20:06 GMT -5
SPEEDMASTER FIFTIETH ANNIVERSARY MODELS
AT CHARITY AUCTION IN BERLIN
Four limited edition Omega Speedmaster Professionals, each the last in their line celebrating the 50th anniversary of the famous chronograph, sold for twice their retail value at an extraordinary charity auction in Berlin on Wednesday evening.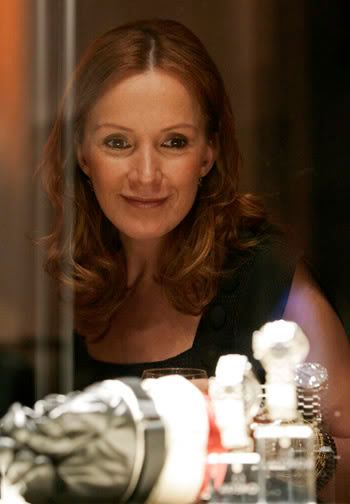 Some prize pieces being admired by actress Katja Flint
Organised by Antiquorum, the world's leading horological auctioneers, the event took place at the renowned KaDeWe department store where for the third year running Omega are staging an exhibition showcasing some of their most prestigious timepieces.
As a curtain-raiser to the exhibition which opened today, the four Speedmasters went under the hammer of Antiquorum president Osvaldo Patrizzi. The lots were one white gold, one pink gold and one yellow gold Speedmaster, each No 57 in a series of 57, and one stainless steel model, No 57 in a series of 1957. They sold for CHF75,000, CHF58,000, CHF58,000 and CHF25,000 respectively.
Prospective buyers were at KaDeWe itself, bidding by telephone or via the internet from all corners of the globe. ''It was a fantastic show for the Berlin public," said Omega president Mr Stephen Urquhart. The auction followed on from the amazingly successful Omegamania auction earlier this year, also run by Antiquorum, when 300 vintage or celebrated Omega watches sold for more than CHF6.5m.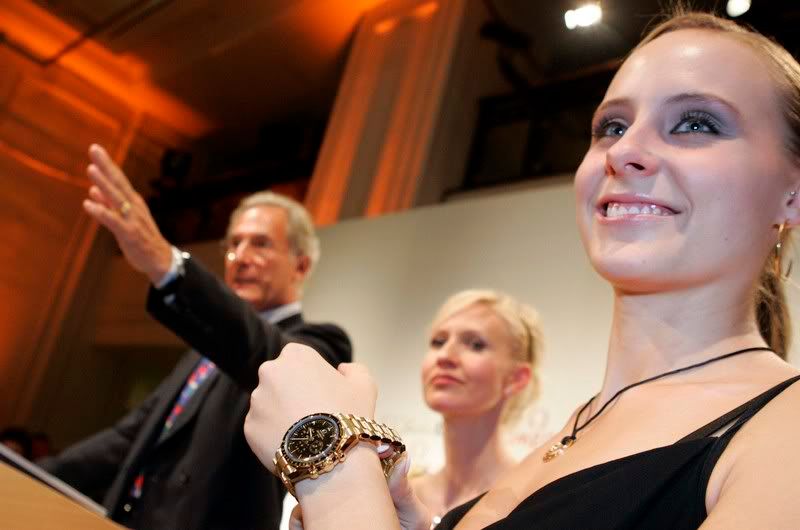 Antiquorum's Osvaldo Patrizzi, Andrea Sokol and a model auction the gold 50th Anniversary Speedmaster
The exhibition, 159 Years In The Making, will give KaDeWe's clientele the chance to see some of Omega's most outstanding products at close quarters. In addition to several examples of the Speedmaster and a tribute to its famous space history, exhibits include Omega's Haute Joaillerie and Olympic collections as well as the Hour Vision watch and the intricate Nivarox mechanics behind the brand new movement contained within it.
"It is very rare to see the heart of the entire watch industry on display like this," said Mr Urquhart, commenting on the Nivarox showcase. "It is the first time any of these details have been shown outside of Switzerland."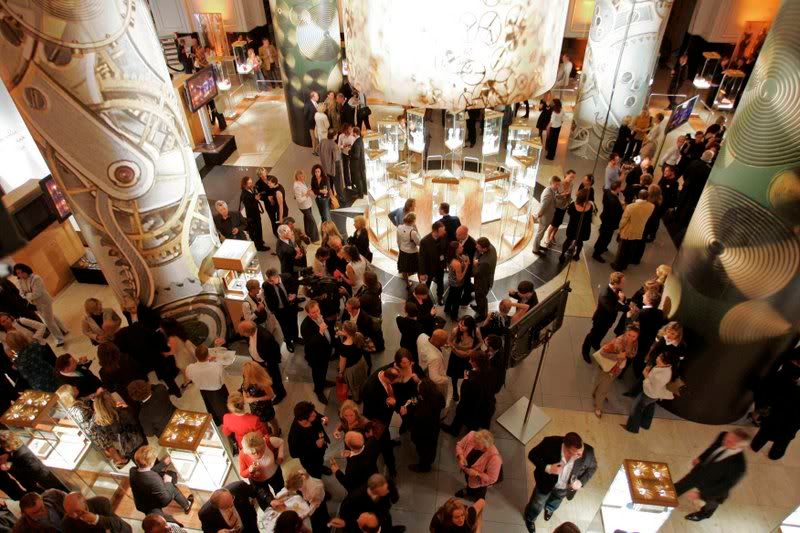 The Omega cocktail party at KaDeWe
Among the 600 special guests Mr Urquhart, Mr Patrizzi and Mr Patrice Wagner, director of KaDeWe, were delighted to welcome several glittering stars from the world of German showbusiness including the actors Heiner Lauterbach, Uwe Ochsenknecht and Jan Josef Liefers.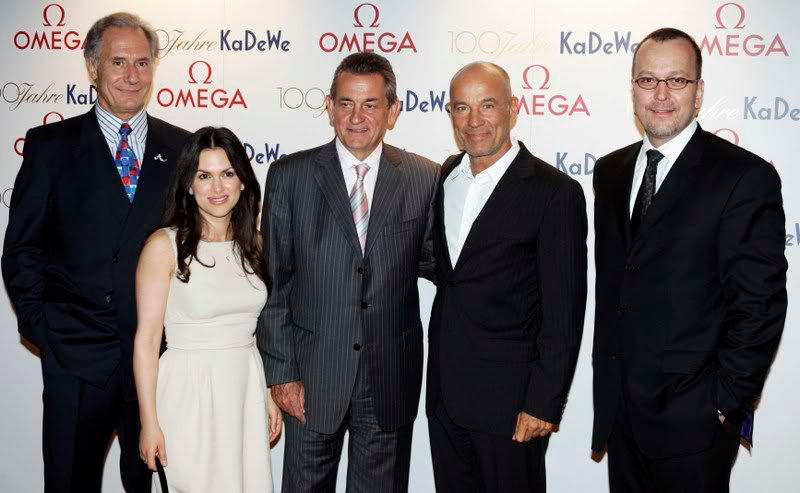 At the party from left, Osvalo Patrizzi, Viktoria Lauterbach, Stephen Urquhart, Heiner Lauterbach and Patrice Wagner
The exhibition continues until 24 August. All proceeds from the Speedmaster 50th Anniversary auction will be donated to two children's charities in Germany.

Pictures - PhotoPress/Steffen Kugler
Text - omegawatches.com